A TG police officer in Connecticut has filed a harassment complaint against her police department. Francesca Quaranta was on the force for seven and a half years as a male officer. After she came out to her superiors and started her transition she claims the work place environment began to change and she was targeted with more scrutiny related to the department's dress code than other female officers, had her seniority ignored and began to get criticisms about her performance on the job. She filed her complaint and has been on administrative leave ever since. Read about it in The Courant.
On Thanksgiving day the New York Times published an article in its Style section saluting the cinematic appearance of men dressed in women's clothing. The author assumes a catty voice as she praises the performances of several actors but overall she seems to approve of fellas in frocks on film. She covers all the usual suspects from Mrs. Doubtfire to Billy Porter. See if you agree with her assessments and check out the article in the Times.
Actor Sean Bean, best known in the U.S. for his manly roles in Game of Thrones and Lord of the Rings, put down his sword last year to portray a crossdressing teacher for a BBC production. The show won an award and now Bean has won an international Emmy award for his portrayal. Read the story at Queerty.com.
Chaz Bono has slimmed down and is feeling good about it. Last year he was tipping the scale at 250 pounds. but through a healthier diet, eliminating grains and dairy and eating vegetables, meat, fruit and nuts, he has dropped to 165 and is looking good. Check out the story in the Daily Mail.
In Australia when a transsexual economist comes to town it makes the papers. At least the business pages pick up the story. The economist in this case is also a professor at the University of Illinois and is Deirdre McCloskey. She used to be a Marxist, and agnostic and a man. These days McCloskey is all for free markets, is a Christian and, of course, is a woman. Read about her amazing history, including the story of how she told her dean that she was going to transition, in The Sydney Morning Herald.
You don't mess with Macy's Thanksgiving Day Parade. It's bad enough when Underdog and Snoopy are grounded due to high wind gusts. Oh, the whining! But this year social conservative parade fans got really worked up when the cast of Kinky Boots performed during the parade. More evidence for conservatives that the country is going to hell. Never mind that the show has wholesome themes of cooperation, tolerance and diversity. To the conservative thinkers who hit the Tweeter feeds with anti-Kink Boots rants all they saw was men in high heeled boots and the show's star Billy Porter in full drag. Read about what the cast did after the got the almost instant Tweeter feedback and what Harvey Fierstein had to say in the Huffington Post.
Drag chanteuse and actor Coco Peru has turned anti-reparative therapy activist. Reparative therapy is the discredited, and in some places illegal, practice of trying to "cure" gayness. Peru became involved in speaking out against the quack therapy when a priest who advocates praying away the gay was booked to speak at her old high school. She started a protest that resulted in a delay of the priest's appearance at the school and went on to produce a YouTube video protest song. The story appears in the South Florida Gay News.
What is it with these kids today who need more than two sets of pronouns? Not content with the good old fashioned "he" and "she" these gender rebels are demanding to determine their own pronoun. And they want their own labels too! Like "agender," "bigender," "third gender" and "gender-fluid." (I have to go in and get my gender-fluid changed.) But enough of this fun. We heartily applaud the new generation of people who don't feel comfortable being just "he" or "she" and want to strike out in new gender directions. "Ze" is still a tough one to take, though. Read about the trend in Yahoo News.
You can retire from your day job but when show biz just won't let you go what's a girl to do? If you're Collette LeGrand-Ashton, the lady in charge of the Dream Queen Review at Aunt Charlie's Lounge in San Francisco's Tenderloin district you use your days to relax and recharge your batteries for your twice a month shows. Robert Hill, the man behind the sassy queen was a directory-assistance operator and his part time job became his main job when he retired. The show has been going on for seven years nd the crowd is diverse. Read all about it at SF Gate.
On November 22 the GLBT community in Detroit came together at the United Methodist Church to observe the Transgender Day of Remembrance. Candles were lit to honor the 242 reported murders and suicides of transgendered people around the world in the past year. The story is at PrideSource.com.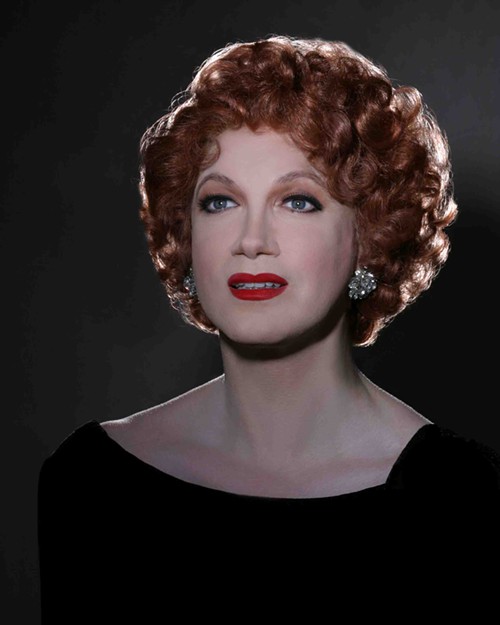 If you happen to be in New Orleans on Tuesday you're in luck. Well, not yet. First you'll have to find out if there any tickets left for a performance by Charles Busch. Busch normally performs in drag and portrayed female characters in his many shows (Vampire Lesbians of Sodom, Psycho Beach Party, Die Mommy Die) but don't call him a "drag queen." He prefers to be called a drag legend. Read about his career and what's in store for the crowd at Cafe Istanbul on Tuesday night in the Best Of New Orleans.
TWITs
Recently Alex Baldwin got in trouble for using homosexual slurs against a photographer and had his MSNBC TV show suspended for a couple of weeks. Why would Baldwin do a thing like that? We surmise it's anger issues (who would want the paparazzi stalking them all the time?) and a return to the days of his youth when it was "okay" to call people the names that he used. In England calling people names can get you in more trouble. A man in Blackburn, Lancashire (the place The Beatles said had 4000 holes) had leased an apartment above his business to a transgendered woman. He neglected to define that she paid for her own electricity when he drew up the lease. When she rightfully refused to pay anything for the power he argued with her in public and used the "T" word. Then he went to the day care center where she was a volunteer and told them they shouldn't let her work with the children. Now he still has a very large power bill and has to do 60 hours of public service and pay the court costs. If he had a television show no doubt it would have been cancelled. Read about this TWIT Award winner in the Lancashire Telegraph.
The second TWIT Award today goes to former Navy chaplain Gordon Klingenschmitt. Gordo became a disgraced former chaplain after he disobeyed a direct order and wore his uniform to a protest demanding that Jesus' name be used in military prayers. He's getting his TWIT because someone put him on television last week and asked him about the controversy over transgendered students using the bathrooms and locker rooms of their preferred gender. Gordo said that a "demon of rape" was letting transgirls use the girl's room so the could "violate your daughters." He further stated that Coy Mathis, the 6-year-old TG girl in Colorado, was being abused by "his parents…." Get a clue Klingenschmitt. Transgirls are not going to rape anyone. Maybe it's a fantasy he has but it's not real. And, we suspect that Gordo may have his own sexuality issues. Read the story and see a video of him at The Raw Story.
Category: Community News